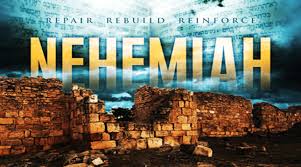 Men's Fellowship Meeting
A Study in Biblical Leadership
January 23rd beginning at 7 PM we will be having our men's fellowship meeting with meal following. The meetings are generally about an hour in length with a sit down meal. This is a time for men to get together for some prayer, discipleship and some fellowship.
This conference will be on leadership and why it is important to the local church. We will be studying the prophet Nehemiah and his approach to the task at hand.
Paul told Timothy, the young pastor, to commit unto faithful men. Faithfulness in a local church ministry is essential if that ministry is to survive and continue to uphold the New Testament pattern.
While we see the spiritual decay in much of Christendom we wonder why and how this happened, those answers lie in the leadership. It requires strong leadership to uphold biblical principles and sound doctrine. Many are simply not willing to do that. The easier path is the one with the least resistance. Going against the grain is not the forte of the modernist and liberal. Nehemiah understood the cause of spiritual decay to his people and began to set in order the things that were wanting. I believe this is the type of leadership we need today.
Here at Bible Way our vision is to continue to build to a strong, vibrant Baptist Church. The vision is to see this work and name continue well into the future. Ours is not to become a church that once was or church in name only, but a church, that through strong leadership, will continue to hold fast to sound in doctrine and practice until the Lord returns.
To do this men must be trained up and empowered to exercise their spiritual gifts all for the common good of the gospel and advancement of biblical truth.
If you have any questions please call or send an email.

Follow us on Twitter
Upcoming Events
---
Evangelism

Evangelism

Evangelism

Evangelism

Evangelism
---